Backup

Unlimited online backup
Safe and Secure
Simple and Automatic
Your files follow you anywhere
€59.95 +VAT Annually
Storage

Anywhere access
Stream your music
Compatible with your PC, Mac, Phone or Tablet
Edit your Files online
€89.95 +VAT Annually
Lite
1 User
1 TB Cloud Storage
Web Sharing
Team Collaboration
€249 +VAT Annually
Premium

5 Users
Online Backup
Business Synchronization
Backup NAS Devices
€749 +VAT Annually


Access your files securely from
any device, from anywhere
Avandrive makes your life easier. Access all your backed up files from any device anywhere in the world.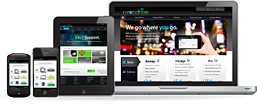 It seems to be on everyone's lips, doesn't it? Cloud backup this, cloud backup that. But why do you need it? What's the big fuss really about?
This is an article
Since the days of Napster lots of people have been illegally sharing copyrighted content across the internet but some people are still unsure if they are breaking the law. We have included the gen
Traditional tape backup can make every day seem like Halloween. Consider this scary fact: According to Storage magazine, up to 60% of all tape backups fail to fully recover your data.