Avandrive Desktop 1.14.5 for Windows and Mac OS X
Posted on September 10, 2013
Avandrive Desktop 1.14.5 for Windows and Mac OS X
Today we are proud to introduce version 1.14.5 of our software for Windows and Mac OS X. The new version of our software includes several key security and usability features and some minor bug fixes.

What has changed?

To make Avandrive even easier to navigate and edit, we have improved the Avandrive settings window. This keeps the same great features but restructures the menu to make it quicker to navigate. We have answered the most common questions about our Avandrive 1.14.5 update in our post found here.
Avandrive Security
Avandrive is one of the most secure cloud storage services on the market and gives users the ability to encrypt all file transfers. This stops people from intercepting files while they are being transferred. However, this does not address the physical security of your computer. Thieves may be able to simply turn on your computer and easily access files in your Storage. To solve this problem we have added two key new features; storage encryption, and automatic log out.
New Features
A.      Storage Encryption
You can now choose to encrypt your local Storage cache using AES security. This means that files on your Storage drive will only be accessible while Avandrive is running. If the Avandrive software is not running, no meaningful data can be retrieved from the cache.
To turn on the encryption feature simply click on the Avandrive icon on your task bar, choose "Settings", click the "Security" tab, and then check the "Encrypt all files in my Storage". If you have a significant amount of files this may take some time to complete. You can check its progress at any time by going to the Security tab.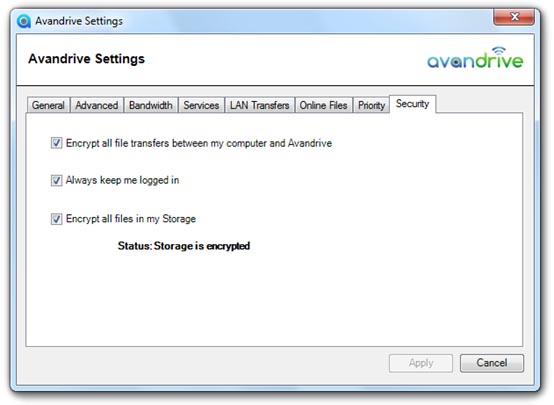 B.      Automatic Logout
Most users have Avandrive set to automatically start when they log into their computer. To complement the Storage encryption feature we have added automatic logout. This will make sure Avandrive always requires a password before starting up. These two new features will keep your files safe on the cloud as well as on your computer.
C.      Improved 'Manage Backups' window
We have improved the interface for handling file type exceptions. This will automatically stop EXE, ISO, and temporary files from being uploaded to the cloud and will reduce the time it takes you to complete your first backup. If you do want to upload .ISO files you just need to uncheck the .ISO box in the exceptions menu. You can also add new exceptions to the list. If you add ".avi" to the list the software will make sure no AVI movies are backed up to the cloud.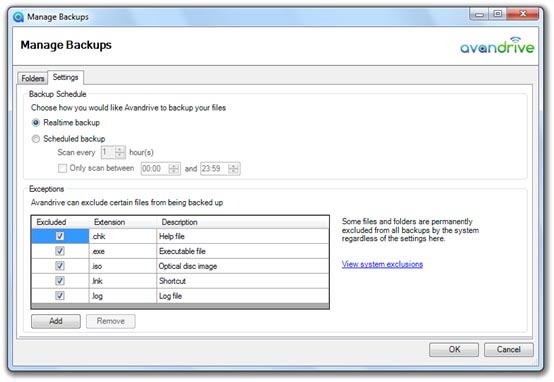 D. Restore is now built into the Windows and Mac client
You can restore your files onto a Windows computer by right clicking on the Avandrive icon on the task bar at the bottom right of your screen.
Will my software automatically update?

If you have the Avandrive Desktop Software installed you will be see a pop up asking you to upgrade. If you do not have the Desktop software installed please log into www.avandrive.com/login.html and click the "download" button on the home page.
We welcome all customer feedback; please let us know your thoughts by contacting our support department here.